Dance performances will be staged at 7 pm and 8:50 pm, from March 20 to 31.
Brazil is home to some of the most remarkable falls in the world. One such case is the Iguaçu Falls, elected in an international campaign as one of the Seven Wonders of Nature. The falls also inspired a choreography that will be staged at the water mirror of the Brazil Pavilion at Expo 2020 Dubai, twice a night, from March 20 to 31.
Sponsored by Itaipu Binacional and produced by two dance companies from Brazil (Cia. K. and Quasar), The Legend of the Falls tells the story of the forbidden love between Naipi and Taroba. Naipi was promised to Mboi, a serpent-like god. When Taroba took her away, Mboi, in his anger, crushed the land with his body, giving birth to the Iguaçu Falls. He also punished the couple, turning Taroba into a palm-tree, and Naipi into a rock.
To give the story the proper dose of drama, choreographer Henrique Rodovalho, from Quasar Cia. de Dança, uses the water as a stage, adding intensity and energy to the dancers' movements. To perform in the water mirror, which is around six inches deep, dancers also needed to adapt to new outfits: instead of flowing fabrics, neoprene clothes, similar to those used by surfers; and instead of pointe shoes, diving shoes, to improve grip on slippery ground. Another novelty is the knee pads, which allow dancers to launch themselves more easily and safely.
"This is the first time we perform on the water. Therefore, we have to think about very technical issues, where it slides, where it drags, what can get wet, what kind of movement dialogues best with the water", says the choreographer. "Water enters as a strong element in the construction of the choreography. The idea is to show it as an element of strength, of energy".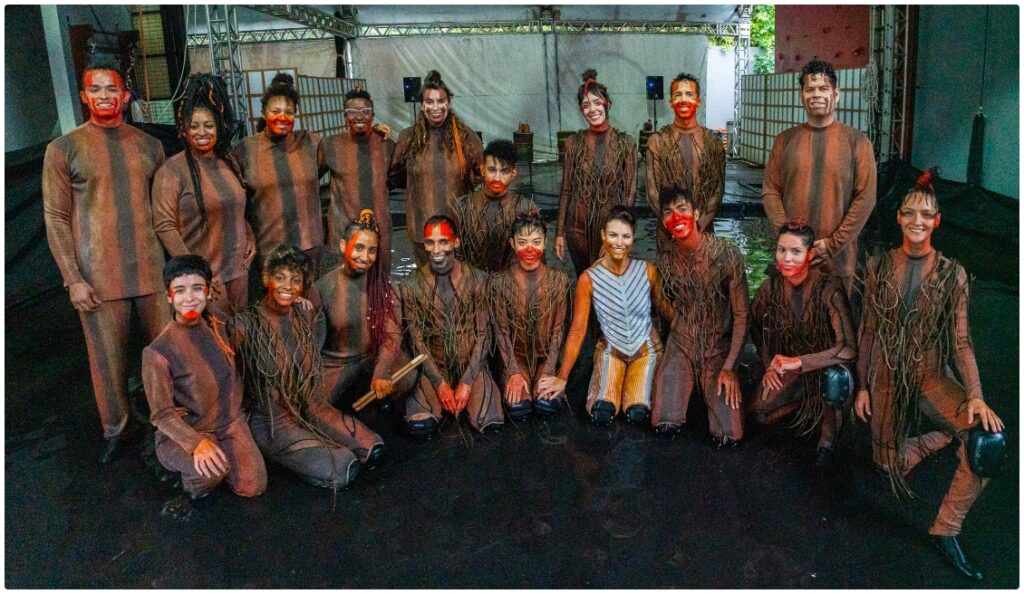 For dancer Rafael Abreu, who plays the young warrior Taroba, the water required getting used to "another time". "It's a conversation. We test the movements to understand it better. It's a different state of attention," he says. "Water motivates us to make more effort, to give the desired effect in the choreography", adds Fernanda Hilário, who plays the promised young woman. "This force is felt by the public. People get emotional. There is very strong communication."
For both dancers, it is a way of bringing themes from Brazilian culture to an international audience, and this is seen as a great responsibility. "It's an opportunity to show that we're not just samba. We are a multiplicity of things, which is not always accessible to the public of an international event like this. Therefore, it is an honor to participate in this show", adds Fernanda.
In all, the show is staged by 10 dancers from Quasar, six percussionists, and two technicians from Cia. K. Noteworthy is the soundtrack composed and directed by Magda Pucci from Grupo Mawaca, inspired by indigenous and African sound elements and Brazilian popular culture. In addition, the walls of the Brazil Pavilion will feature projections of water and nature elements, prepared by VJ Spetto, who also performed at the opening of the Rio de Janeiro Olympics.
"For me, who have been to Iguaçu Falls several times and see them as a very special place in the world, it is a gift to be able to do this show", says director Kiko Caldas, from Cia. K. "At Expo Dubai, everything is extremely technological. That's why we decided to put on a show with a very human aesthetic, talking about love, passion, the grandeur of nature. I think it will touch people's hearts in a very special place," he summarizes.
The performances of The Legend of the Falls will take place every night, from March 20 to 31, on two occasions: at 7 pm and at 8:50 pm, with an average duration of 20 minutes, at the Brazil Pavilion, at Expo 2020 Dubai.
Itaipu at Expo
Besides The Legend of the Falls, Itaipu Binacional has prepared a series of attractions for the Brazilian Pavilion at Expo Dubai, making use of state-of-the-art interactive technologies to show the interconnections between water, biodiversity, climate, and energy. The exhibition also focuses on sustainable initiatives developed at the border region between Brazil and Paraguay, such as the preservation of more than 100 thousand hectares of Atlantic Forest, recognized as a Biosphere Reserve by UNESCO.