In a year of high power generation, tourism at Itaipu reached a historic mark: for the first time, visitors leapfrogged one million barrier in a single year. In 2018, a total of 1,024,667 people visited the hydroelectric plant, in two modalities of visitation (tourist and institutional) in both sides of the company (Brazilian and Paraguayan). Now the goal is to surpass the 2 million visitors mark in one year by 2023.
"It is quite challenging, but perfectly possible to be carried out if we follow the planning we have done over the past six months to be run between 2019 and 2023"

– said the head of Itaipu Tourism Coordination, Emerson Orsini. According to him, several improvements over 2018, which will continue in the coming years, could further increase the tourist flows in the hydroelectric plant.
Mr. Orsini highlighted studies made to improve dam's lighting, bringing the tourist attraction to the world standard of light festivals. In 2018, continues Orsini, tourists were offered several new attractions, as well as the electric buses on Itaipu Special Ride. The vehicles were developed by Itaipu Sustainable Mobility Program and, in the future, they should integrate the entire fleet for visitors attendance.
For the general manager of Itaipu Tourist Complex (CTI), Yuri Benites, despite events such as Elections and World Cup, which normally impact negatively on tourism, 2018 broked the visitation record. "This is a combination of a lot of work, integrated management to attract visitors to the destination and internal efforts to increase quality in service," he concluded.
New attractions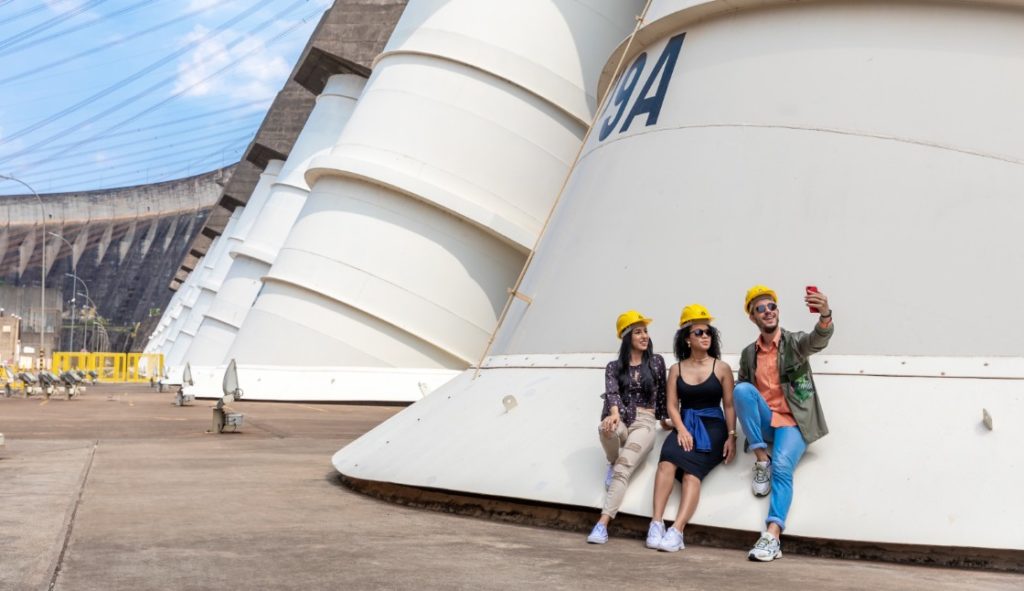 In early December, during the high season opening, Itaipu Tourist Complex launched new attractions. One of the novelties was the Itaipu Kids, a lure for children from 5 to 13 years, which includes activities in Ecovila (the mini-city of PTI), Science Station and Astronomical Core. During the tour children are accompanied by monitors and participate in playful and educational activities.
Another novelty was the launch of two scientific tours: Itaipu Technology in dams and Itaipu Technology in biogas, both offered once a month to students and professionals interested in these subjects. Twenty people maximum groups are allowed, with guided visits to the internal and external areas of the plant and to the PTI. In the afternoon, visitors can attend technical workshops.
Itaipu VIP was offered as a premium option to visitors. They can go through sections of the plant in a 100% electric vehicle, model Renault Zoe, with some exclusive stops. In addition, the dam's lighting, now called Brighten Itaipu, has an all-new special summer version with musical performances and fireworks shows. Visitors can also extend the evening and enjoy dinner at the Barrageiros Restaurant.
The one million visitors mark was attained on December 21, 10 days to year's end. The Argentinean Silvio Mentucci was welcomed at 10:35 that Friday at the Visitor Reception Center by Itaipu's directors. He is married to Brazilian Daniela de Oliveira and was also with his son Leandro, an engineering student. "We weren't expecting such a special reception. We will never forget" – Said Silvio at the time.
The most popular sightseeing of Itaipu was once again the Panoramic Tour, operated by the CTI, on the left side (Brazilian) of the plant. In total, 391,432 people did this ride, more than 10% increase over the figures from last year.
Summed up, all the attractions operated by the CTI/ME (left bank) had 617,151 visits.  Institutional visits on left bank add up to 57,269 people. On the right bank (Paraguay), they amount to 209,044 people, while people that just passed through the ICU/MD totaled 141,203 visitors.
By the way, Brazilians and Paraguayans were the ones that visited Itaipu in 2018. There were 648,898 of Brazilians and 257,940 of Paraguayans. They're followed by Argentines, Uruguayans, Peruvians, Germans, Chileans, Chinese, Americans and French. Regarding to Brazilian states, Paraná accounted for 41.9% of all visits, followed by São Paulo, Rio de Janeiro, Santa Catarina and Rio Grande do Sul.
This was the third consecutive year that Itaipu has broken visitation record. In 2017 the peak of visit number 1 million was almost reached. There were 979,932 people that year. Other best years were 2016, 2013, 2012, 2014 and 2015.
In 2018, the federal holiday of Independence was one day where the number of plant visitors increased. September 7th attracted 8,599 people, the best daily figure of the year. Brazil's Patron Saint Day, October 12th, was close to that figure, totaled 8,440 people. Other dates of intense visitation: December 28th, November 17th, November 16th and January 5th