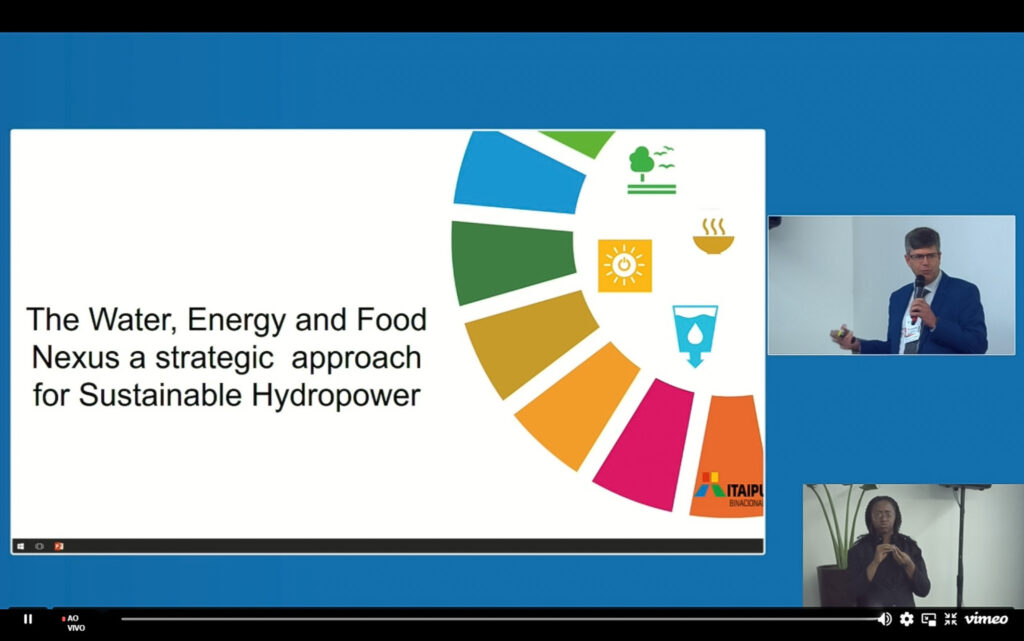 Itaipu Binacional is one of the entities participating in the Global Conference on Sustainable Technology and Innovation (G-STIC), which is being held between February 13th and 15th at Fundação Oswaldo Cruz (Fiocruz), in Rio de Janeiro. The event brings together representatives of institutions from several countries to discuss technological solutions to problems related to the UN's 2030 Agenda for Sustainable Development.
The Conference, which is being held in the Americas for the first time, has important speakers such as the Director-General of the World Health Organization (WHO), Tedros Adhanom, the Director-General of the Food and Agriculture Organization (FAO), Qu Dongyu, and the Brazilian Minister of Health, Nísia Trindade Lima, among others.
Itaipu was represented by its superintendent of Environment, Ariel Scheffer, who participated on Monday (13) in the special session on the "Water-Energy-Food Nexus: the only path to sustainable development". He spoke about the importance of this relationship to the ecosystem and presented the work developed by the binational company in its region of influence. Through partnerships established with public entities and society, the company seeks water management with the preservation of springs, watershed and forest recovery, besides the protection of endangered species.
According to Scheffer, Itaipu's participation in the G-STIC is important for exchanging experiences with innovative initiatives from several countries, besides being an opportunity to demonstrate the company's engagement in the 2030 Agenda. "It's a chance to talk about the fundamental role of hydroelectricity in the energy transition, something essential to tackle climate change. With this, we expand knowledge and share our experience in the water-energy-food nexus, which is fundamental for the sustainability of Itaipu's business", he said.
The event's thematic roundtables discuss the use of environmentally correct technologies to mitigate climate change, seeking to prevent the loss of biodiversity to conserve ecosystems. With sessions linked to the Sustainable Development Goals (SDGs), panelists discuss principles of the circular economy, nature-based solutions, and systems-based approaches to explore new ways to redesign systems, products, and services.
The conference is jointly organized by VITO (the leading research organization in clean technology and sustainable development in Belgium) and seven other independent, non-profit research institutes: Fiocruz (Brazil); Scientific and Industrial Research Council (CSIR – South Africa); Guangzhou Energy Conversion Institute (GIEC – China); Gwangju Institute of Science and Technology (GIST – South Korea); National Technology Management Center (NACETEM – Nigeria); Energy and Resources Institute (TERI – India); and United Nations Sustainable Development Solutions Network (SDSN).